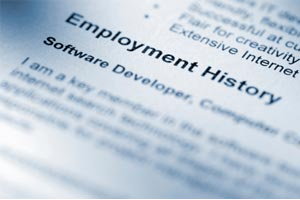 Its frightening how many job hunters think theyll be hired on the basis of qualifications alone. Many dont even bother to think about their references, believing that acing the interview will be enough to seal the deal. Dont make this mistake!
Perhaps now its a good time to brush up on your CV writing skills, or more specifically, the reasons why those little reference boxes are so important...
Employers often conduct more than one verbal check
Most employers will make a minimum of two verbal reference checks – not email, not SMS, but verbal! Its not always about what people say, but rather, how they say it. When they call your previous employers and speak with them directly, they will be looking to pick up on more information: a change in tone, a pause after questioning your punctuality. Whatever it is, human reactions can offer a giveaway that written words cant. Always check with your previous employers to see if its okay to use them as a reference so they have time to prepare answers to difficult questions.
Employers expect a little embellishment
Some people shine in interviews and look great on paper, but perform poorly on the job. Therefore, employers always take CVs with a pinch of salt and expect a little embellishment. Thats not to say its okay to lie about previous positions or achievements. But, sometimes giving a mundane job a more formal title will work in your favor. For example, if youre applying for a restaurant job, instead of writing "Cleaner" you could write "Kitchen Porter."
Employers like to ask a hypothetical question
In todays modern world employers are often afraid of controversy. Perhaps its because of the politically correct society we live in nowadays? But dont be thrown off in the interview if youre asked something that may seem a little questionable. A hypothetical question can seem controversial and unexpected, but it will tell your employer more about you (as in your personality) than anything on paper. Its also a way to catch you off guard and find out if you really do work well under pressure (as youve probably stated on your CV!)
Employers are always on the lookout for fake references
When an employer comes across a phone number that doesnt connect, an email address that returns mail, or a shady sounding voice on the other end of the line, they will automatically put their guard up. All of these scream fake reference, even if theyre not. So make sure all of your reference contact information is correct. Sure, mistakes can be made, but think about it, in the eyes of your potential employer somebody who doesnt scrutinize their reference information – which is one of the most important parts of a CV – probably isnt that well organized.
Remember, employers arent just hiring you for a job, theyre hiring you to represent their company. Any employer worth their salt will perform candidate background checks with close scrutiny and shun those who dont make the grade. Make a mistake and it could cost you dearly.
BIO: David Bishop is a business blogger and entrepreneur from Cornwall, England. He is currently involved with a number of tech startups, ranging from video games developers to digital marketing companies.