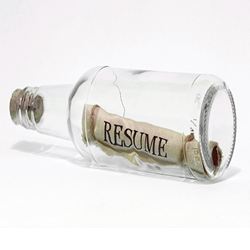 As a new employee at a Miami-based employment agency, I spend most of my days looking at resumes, scheduling appointments and helping recruiters prepare candidates for the tough job market.
Read: I spend a lot of time reviewing disastrous resumes.
The worst part is that I see the same mistakes over and over again. Given the exceedingly competitive job market, you'd think people would pay more attention.
If you are on the job hunt make sure to avoid some of these common resume mistakes.
The three page resume
My co-workers and I want to cry every time an exceedingly long resume is submitted. That means we have to sift through it, pick out the great parts and cut it down to one page.
People seem to think that the longer their resumes are, the better they are. It means you have more experience, right? Wrong. Employers will probably spend less than 10 seconds looking at your resume. They want something straight and to the point, not a dissertation.
If you give them entire paragraphs explaining how you worked at McDonald's during summer break as a teenager and it gave you sales experience, they will probably trash it. Instead, stick to the stuff that is relevant to the position, use bullet points and get to the point.
In some cases, for example if you're a freelance writer or web designer, potential clients might want to see a more detailed resume. But for the most part, brief is best.
Incorrect contact information
Part of my new job involves calling up potential candidates and scheduling interviews with recruiters. As the person who has to get a hold of job candidates somehow, it would certainly make my life easier (and get you an interview sooner!) if the the contact information on your resume is correct and up-to-date.
Often I encounter resumes with old or incorrect contact details. I try to dig for the correct number or email address, but potential employers may not put in the time to track you down.
A fuzzy idea about the job
Read what you are applying for, people! I've already had several people call me upset over the fact that they thought they were applying for high level positions. The truth of the matter is that if they had actually read the job ad they would have clearly seen that our agency mostly deals with entry level positions.
Make sure to read the details of every job ad, especially the ones you want to pursue. If you have any questions don't hesitate to call and ask if there is a number or email address given.
Colors, fonts and funky formatting
Resumes should not have highlighted text, bizarre designs, funky colors or perfume sprayed on them. Employers don't want to be blinded by cyan highlighting. They want to get the information they need as quickly as possible.
Keep it simple, people. Black Times New Roman 12pt font is all you need.
Lying, is a no no
We all know it's a no-no, but people actually do this. They say one thing on their resume, claiming to have a bachelors degree for example, we schedule them for an interview, they come in and we find out they were lying. It wastes the employer's time (and money) and makes you look like an idiot. Just don't do it.
Remember that your resume is supposed to reflect you as a person and as a worker, so try to avoid silly mistakes. Believe it or not, by avoiding these common mistakes you will dramatically increase your chances of being called in for an interview.
Any others you would like to share??? Comment below.