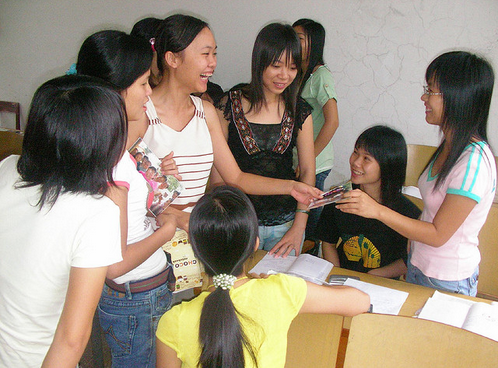 When you're starting with a new class of EFL students, you may notice they aren't confident speaking English in front of their peers. They may feel self-conscious about their accents, or they may worry about having a limited vocabulary. Total physical response (TPR) lessons are a great way to increase your students' confidence.
TPR helps EFL students to gain vocabulary without requiring them to speak, and it's just one lesson technique that you can use if you decide to go abroad to teach English as a foreign language. TPR is ideal for students who speak little to no English. Start with simple commands before moving on to more complex activities.
Select the Commands That You Want to Teach
When you're first starting with TPR, teach simple commands that require no props. For instance, commands like "sit down," "stand up," or "walk" utilize body movements, but they don't require students to use fine motor skills. After they're comfortable with these simple commands, you can incorporate fine motor skills with commands such as "give me," "point to," "pick up" and "put down." After you've decided which commands to teach, write them down in the order you plan to teach them. You'll be able to refer to your list to see which commands you've taught, and you'll be able to repeat your exact instructions if your students need some reinforcement.
Gather Your Props
Your props will be simple when you're teaching beginner-level commands. For example, you can place a row of chairs or a bench in the front of your classroom, call a group of students forward and ask them to "sit down," "stand up" and "walk around" the seats. If you're teaching fine-motor commands like "give me," then you should set up a table with some different objects that students can identify, pick up and hand to one another. Although you'll be modeling the commands as you teach them, you may find that students like having pictures of the command in a cultural context. For example, find a picture of one plumber handing a wrench to another as an illustration of what "give me" means, or bring a magazine image of someone pointing at an unusual object for "point to."
Choose Your Student Models
If you have a classroom of new students, a TPR activity will help you to get to know them. You'll see who is comfortable being in front of the class, who may be more introverted and who naturally gravitates to a leadership role. As you progress through the teaching term, you can select student models more strategically. For example, you can pair students of different ability levels, allowing less confident students to work with strong peer models.
Teach the Lesson
Teach your TPR lesson by following these six easy steps:
· Model the command. Speak the command and perform the action at the same time. For "stand up," sit in a chair, say "stand up" and then stand up.
· Perform the action with your student models. Be sure that you speak the command every time you perform it.
· Stand back. Give the command to your student models without performing the action yourself.
· Repeat if needed. If your students struggle to follow the instructions, then stop the lesson and repeat the first three steps.
· Review before starting a new command. Review the commands you've taught in the order you've taught them. Your goal is for you to speak the command and for your students to perform the action without instructor modeling.
· Randomize. Instead of going over the commands in order, mix them up and ask your students to perform each action.
Extending Their Knowledge
As your students become more advanced, you can teach them to read the command while they're performing it. Write the command onto a large card, and hold the card up as you speak the command. Eventually, you should be able to hold up the card without speaking, and your students should be able to perform the action. The key is for them to internalize both aural and written commands and to associate those commands with specific actions. If you have success with TPR, you may also want to investigate TPR Storytelling.