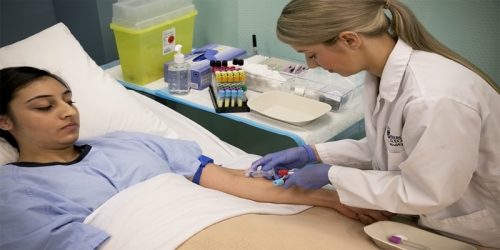 Once youve completed your phlebotomy education, youre going to be eager to get your new career started. Youve doubt taken a look at hospitals, labs, and private practices that would make terrific entries on your resume. Are you going to be able to snag a dream job without work experience? Phlebotomy is like a lot of other professional fields: finding work without experience can be a challenge. Meeting that challenge can be difficult, but its far from impossible. Here are two outstanding ways to rack up some impressive work experience that will equip you with the foundation you need to build a solid phlebotomy career.
Use The Right Training Programs
Not all phlebotomy training programs are created equal. Many of them include a "real world" experience component along with classroom and lab work. Pima Medical Institute, for example, has a well-rounded phlebotomy technician certification program that takes three months to complete. It provides you with both academic and practical instruction in collecting blood samples through venipuncture and micro-collection.
A comprehensive training program like this will prepare you to collect all sorts of clinical samples, not just blood. The broad skill base you cultivate will give you a leg up compared to other phlebotomists coming out of school and make you a more valuable prospect for long-term employment. In total, the PMI certification program includes 70 hours of lab work under experienced professionals. The certificate bestowed on you after youve completed the necessary courses is a permanent verification of your training.
Volunteer Work
One of the best ways to get practical experience that will look good on your resume is to work with volunteer programs. Today there are a lot of good organizations (including charities and public health programs) that suffer from chronic staffing shortages. Their budgets simply dont have space for the phlebotomists they need. Offering up your services to them is a great way to both help your community and bolster your resume with much-needed work experience. Here are two terrific volunteering opportunities youll want to check out:
The Red Cross
The Red Cross is always looking for professional help through its Blood Drive Volunteers program. Working with the Red Cross gives you a chance to conduct multiple tests, and this non-profit organization also has a Hospital Volunteer program that will allow you to rack up a little hospital experience. In the long term, this can be one of the good places to find work as a phlebotomist.
VA Medical Centers
VA programs both on their own and integrated with hospitals are always looking for volunteer phlebotomists. Places to start learning about this opportunity include the US Department of Veterans Affairs and the VA Voluntary Service. Once you fill in the proper form for volunteering, you should get a response from the administration in about two business days. Alternatively, you could just apply in person at the nearest VA medical center. Look for the VA Voluntary Service Office in order to get started.
Insurance Coverage And Volunteer Work
Note that you need to protect yourself prior to volunteering by confirming that you are shielded from malpractice suits. Maintaining independent liability insurance coverage is a vital part of being a professional phlebotomist. As a bare minimum, you should carry general liability coverage which handles property damage, bodily injury, and personal injury. Discuss the details with your insurance provider; adequate coverage should not cost you more than $40 depending on the clauses you opt for.
Remember, the work experience you need to move your career forward is out there waiting for you. Just be prepared to look for it thoroughly and dont be afraid to do a little volunteer work. It will be your stepping stone to better jobs in the future!