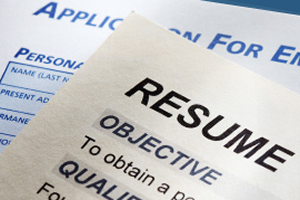 Michael Lebeau is the director of career services at Birmingham-Southern College in Alabama — he has spent the past 20 years in higher education as a career counselor, and he has seen and helped prepare a lot of resumes in that time.
Lebeau believes that a resume needs not only substance but also style. He explains, "While the content of your resume is undoubtedly critical, it's also important that your resume be visually attractive and formatted correctly. Indeed, these qualities function as a symbolic projection of your competence, composure, and attention to detail."
In some fields (such as advertising and graphic design), taking creative license with your resume is a good idea. But for most of us, keeping things simple (and thus as easy to read as possible) is a good idea. We asked Lebeau to share his thoughts on what makes a resume pleasing to the eye — so for your information on your career search, here's what he had to say:
1. When selecting a font or typeface, go with an old standard. The font you choose should be tried and true, not cutesy or novel. That means avoiding script fonts, poster fonts, and (yes) Wingdings. Fonts such as Times New Roman, Arial, Garamond, and Calibri are easy to read and project maturity and professionalism.
2. The use of boldface and italics can effectively add emphasis, aid grammatical logic, and break up the uniformity of text. However, be careful to use these treatments appropriately and sparingly. Underlining, a relic of the typewriter days, should never be used on a word-processed resume.
3. The standard font sizes for resumes are 10- to 12-point for the body, 12 to 14 for section headers, and 18 to 26 for the candidate's name at the top of the document. Larger sizes will give the appearance of stretching out a thin resume; smaller ones are simply a strain on your readers' eyes. (Likewise, your page margins should be between a half-inch and an inch.)
4. Black type is best. Be careful when applying type colors other than black. If you do opt for a splash of color, stick with something fairly conservative (blue works), and apply it only to section headers and to your name at the top of the document.
5. Use matching font and style schemes for all related documents. This gives your resume, cover letter, reference sheet, and thank-you letter the appearance of a unified, carefully composed statement.
6. Always include a cover letter with your resume, and be sure to sign the cover letter (meaning with a pen, in black or blue ink). Don't staple or fasten the two documents; instead, fold them together in horizontal thirds with the cover letter on top.
> Visit Pure-jobs.com's Advice pages for more tips on resumes and cover letters.
What do you think makes a resume pleasing to the eye? Share your thoughts in the Comments section.