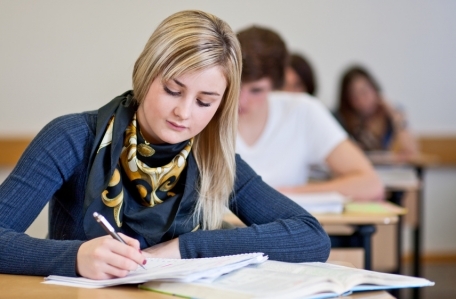 "Get realistic," everyone told her. "You'll be competing with hundreds of thousands of other smart, hard-working and driven new graduates."
Nicolette Weinbaum was freshman in college when she discovered the importance of becoming professionally independent. With all of the tough competition happening today, she knew that she'd have to do something immediately if she wanted to land a career she loved.
"Having a good job right out of school could put me on a promising professional path," she said. "Financial stability and independence was always a huge factor in the back of every student's mind too; especially when I consider how much my parents have sacrificed to pay my quarter-million dollar tuition."
But how? What could she do to stand out among the millions of other students our there?
Instead of using the weak, yet overused excuse, "I'm only a freshman. I've got plenty of time to get experience," she went on a mission to find a meaningful internship that would kick start her career. And, instead of falling back to traditional, outdated job search techniques, she got creative and used the technology she had available to her.
After determining exactly what she wanted and who she wanted to reach out to, she started a targeted LinkedIn ad campaign, utilizing social media marketing to find relevant, valuable opportunities for HER.
Her ad for an internship was simple, but EXTEMELY effective. She received tons of emails applauding her creativity, as well as several job interviews and offers. (You can check out her full story here.)
Get it, girl! That's what Professional Independence is all about: taking initiative, finding creative solutions, and ignoring negativity in order to get out there and take control of your career.
"Professional success won't fall into your lap," she said. "It takes determination, vision, and persistence."
Knowing that many recent grads are having difficulties in the job market, Weinbaum was generous enough to share her secrets to professional success. So, what has she learned? Here are her top career secrets that EVERY college student needs to know before leaving school.
1. Be prepared to show how your personal brand is different.
"It's important to understand what it is you can contribute professionally that no one else can," Weinbaum said. "Identify one of your skills, and elaborate it; make it something you are an expert at."
But what do you do if your boss doesn't provide you with the opportunity to do that? Take things into your own hands.
"Show your employer that you are not afraid to take initiative, you use your time effectively, and that you go above and beyond," she said.
For example, you could create a project proposal and present it to your boss.
BONUS TIP: Document all that you're doing so you have something to show for it. It will be easier for you to reference later on.
2. Always be networking—always.
Love it or hate it, networking is an essential part of finding a career you love. And no, networking isn't limited to big, networking events with fancy appetizers (mmm crabcakes!). You can network with people on social media, virtual networking events, informational interviews, and more. Weinbaum's top tip for networking effectively? Have an elevator pitch.
"Always have a business card on you and a 30-second elevator pitch about your personal brand ready," she said.
An elevator pitch is basically your professional introduction. Not sure what your elevator pitch should say? If you're a student, you can include your university, your major, and your current professional aspirations.
BONUS TIP: Always have a business card handy. You don't need to have a job to have a business card. You can simply list your name, contact information, and your branding statement on this card. Keep them with you at all times. "You never know what good fortune may be waiting for you in the most unexpected places," said Weinbaum.
3. Exude a positive attitude at all times—and smile.
"A good outlook can go a long way in any business," Weinbaum. "Professionals always admire positivity and optimism. With the right attitude (and outfit of course), you can accomplish anything."
You don't have to wait until you're unhappy with your career to start becoming professionally independent. Start taking control of your career as early as possible! You'll be glad you did.
Today, Weinbaum is a junior at Villanova University with a concentration in Finance and Real Estate, and she's leaps and bounds ahead of the rest of her classmates on her journey to professional success.
Photo Credit: Shutterstock